Company profile: NeoImmuneTech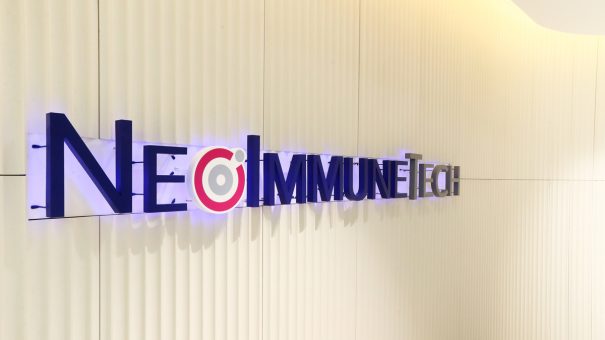 The early promise and enthusiasm that came with the introduction of the first checkpoint inhibitors (CPI) has been tempered by the recognition that their efficacy is limited in several tumor types. Amplifying and reinvigorating persistent T cell immunity has become a much-needed path to enhance anti-tumor efficacy. By enabling strong CD8 T-cell infiltration in cold tumor tissues, NT-I7, a compound developed by NeoImmuneTech, is capable of promoting a microenvironment that contributes to clinical efficacy, when combined with a CPI. Moreover, the potential of this long-acting IL-7 goes far beyond this combination.
These days, the oncology community has a lot to be excited about. From a better understanding of the tumor microenvironment to exciting advances in treatment like activated cell therapies and bispecific antibodies, one could wonder where the next therapeutic revolution in immuno-oncology (IO) will come from.
At NeoImmuneTech, a Biotech company founded in Maryland, US, in 2014, the answer to this question looks straightforward: "We believe in incremental progress", says Dr Se Hwan Yang, president and chief executive officer of the company. "History shows us that most diseases that are considered under control now – HIV, hypertension, and hepatitis C – have seen a long course of progresses, gradually improving the standards of care. We see this happening in the field of oncology too and that's where we believe our long-acting IL-7 can play an instrumental role."
NT-I7 (efineptakin alfa)
NeoImmuneTech is betting on what has proved to be the most efficient natural weapon against cancer: T cells. T cells are known to mediate anti-tumor immune responses. For that reason, they have become the key target of immune checkpoint therapies, like PD-(L)1 agents . But a clear understanding of the specific contributions and biology of different T cell subsets is required to fully harness the curative potential of immunotherapies.
Indeed, clinical trials and medical practice have shown in recent years that the effectiveness of immune checkpoint inhibitors is limited, either because of the histology of the tumours — like in the so-called "immune-cold tumours" — or because of the decrease in T cells caused by chemo/radiation therapy. In these cases, the role of a T cell amplifier can prove essential. That is where the company believes they have discovered a potent IO therapy with NT-I7 (efineptakin alfa), the only clinical-stage long-acting human IL-7.
NT-I7 is a homeostatic T cell growth factor composed of a covalently linked homodimer of an engineered Interleukin-7 (IL-7), biologically fused with the proprietary long-acting platform – hyFc®. This fundamental cytokine is known to be a critical factor for naïve and memory T cells homeostasis, acting to increase both the number and functionality of T cells.
NT-I7 amplifies and reinvigorates persistent T cell immunity in the treatment of patients with cancer and lymphopenia, thus providing unique opportunities for immuno-oncology (IO) combination therapy strategies. It is being developed as an "IO therapy" to harness T cell immunity in combination with current cancer treatments such as anti-PD-(L)1 agents or chemo/radiotherapy as well as cell-based therapies, like CAR-T.
"We currently have 14 clinical trials in progress in the US, of which, four are joint clinical trials with Merck, Roche, and BMS," says Dr Yang. "We feel really encouraged by the progress made so far."
During the 'Next-Generation Cytokine Therapy' session at the Society for Immunotherapy of Cancer's (SITC) 2022 annual meeting, Dr A Naing (University of Texas MD Anderson Cancer Center) presented the results from two cohorts of patients from the phase 2a clinical trial NIT-110, with relapsed/refractory (r/r) gastrointestinal indications.
Those immunologically cold gastrointestinal tumours present a real clinical challenge, with a standard of care heavily relying on chemotherapy approaches. It is worth noting that patients with r/r PaC or r/r MSS-CRC have very limited treatment options. Even checkpoint inhibitors display dismal disease control rates and survival.
The NT-I7 and pembrolizumab combination, however, yielded exciting result – Overall Response Rate (ORR) of 30.8% and a Disease Control Rate (DCR) of 69.2% in 13 patients with CPI-naïve MSS colorectal cancer and pancreatic cancer whose tumours have not metastasised to the liver (per iRECIST). A potential explanation for this significant anti-tumor efficacy is that NT-I7 plus pembrolizumab helps induce CD8+ T cell infiltration in patients' tumor tissues, as observed with Immunohistochemistry staining.
Based on these encouraging results the company has decided to enhance the statistical power of the on-going phase 2 studies by adding additional patients to the current protocols, with the hope that the new data will open the way for larger pivotal studies or even directly to NDA filing.
NT-I7 exhibits reliable Pharmacokinetic (PK) and safety profiles, making it an ideal combination partner. Across the current 14 on-going clinical trials, safety results have been very consistent: NT-I7 has demonstrated a well-tolerated safety profile.
Several combinations being studied
NT-I7 safety profile, as well as the expected amplifying effect on T cells has led to the exploration of a different type of combination with the chimeric antigen receptor T-cell (CAR-T) tisagenlecleucel (Kymriah®) in patients with relapsed/refractory large B-cell Lymphoma (r/r LBCL).
Preliminary results of the NIT-112 phase 1b study will be presented at the American Society of Hematology (ASH) 2022 annual meeting. The study's hypothesis is that the combination may increase expansion and persistence of CAR-T, increasing tumor response rate and improving clinical outcomes without safety concerns.
As of 30 May 2022, only the first three dose escalation groups out of seven dose levels (DL1-7: 60, 120, 240, 360, 480, 600, and 720 μg/kg of NT-I7) had completed recruitment in the NIT-112 study. No serious adverse events were observed.
A single dose (DL3) of NT-I7 at the CAR-T contraction phase (day 21) was able to increase ALC and CAR-T absolute numbers, despite the limited number of patients enrolled in the lowest NT-I7 dose levels (DL1-3), and CAR-T levels being near the limit of assay detection. These results that may have strong clinical implications.
With Orphan Drug Designations (ODD) having been granted already by the EMA and US FDA in idiopathic CD4 lymphopenia as well as in GBM and progressive multifocal leukoencephalopathy (in the US only), there is no doubt that NeoImmuneTech is in a good position to accelerate the development of its main asset.
As Dr. Yang puts it in his final words: "Despite recent progress in immuno-oncology, there are still so much unmet medical needs across the indications we are exploring, and we sincerely hope we can bring new hopes to the patients soon.
"T cell amplification is valuable for cancer patients and immunosuppressed patients. Therefore, we believe that NT-I7 can help cancer patients who do not have enough T cells and who show insufficient efficacy from existing immune checkpoint inhibitors. NT-I7, like CPIs, has wide applications in various oncology indications but also in infectious diseases."
About the interviewee
Dr Se Hwan Yang, PhD, President and Chief Executive Officer, founded NeoImmuneTech in January 2014. Dr Yang has created several intellectual-property protected inventions, including the hyFc® platform technology and NT-I7 drug candidate. Prior to his position at NIT, Dr Yang was Genexine's Head of Research Institute and Business Division from 2007 to 2014 and has served as a BOD member of Genexine. He received his Ph.D. from Pohang University of Science and Technology and has over 20 years of experience in research, product development and business in life sciences, including molecular biology, immunology and protein engineering.
About NeoImmuneTech, Inc.
Founded in 2014 and based in Rockville, MD, NeoImmuneTech (NIT) is a clinical-stage T cell-focused biotech company dedicated to expanding the horizon of immuno-oncology and enhancing immunity to infectious diseases. NIT is led by the scientific founder and inventor of NT-I7 (efineptakin alfa) and has a strong executive team with rich industry experience. Its operations are led both in Korea and in the US (Maryland), making NIT a truly global biotech company, able to leverage scientific, development and regulatory expertise from Asia and the USA. NIT is expanding rapidly in personnel and operations, as well as partnering with industry and academic leaders to investigate NT-I7 as monotherapy and in combination with various immunotherapeutics. For more information, please visit www.neoimmunetech.com.
URL: https://pharmaphorum.com/views-and-analysis/company-profile-neoimmunetech/